First Ante Scriptum: Today is my fortieth day in Montreal. I forgot to write a post for the first month (on September 23 – you will get a reason soon) so I waited for another « momentum ».
Second Ante Scriptum: You have been more than 2,000 readers from 44 countries around the world (from France, the United States, Canada, Australia, Denmark, Singapore, the United Kingdom, India, Japan, Mexico…)
Third Ante Scriptum: As you may guess, I have to do my readings (and I am really late), I have to prepare my midterms which will come (too) soon, etc. However, I cannot let this blog unupdated and I like writing long articles…
* * *
[Beware: the introductory story is quite long]
From September 27 to September 30, there were the Journées de la Culture in the Quebec: on this weekend, cultural activities took place in the whole province, especially in Montreal (arts performances, chats with artists, free exhibitions and visits…).
On Sunday 30 September, I decided to visit the headquarter of Radio-Canada (as known as CBC – Canadian Broadcasting Corporation). The Maison de Radio-Canada is on René-Lévesque Bld, close to the St. Lawrence River.
It rained during the whole day, but at noon, when I came out of the metro (at Beaudry), it was a driving rain. So there were very few people: when I came inside, there were almost more employees than visitors… I was really surprised: Quebeckers can visit this place for free but they do not! On the contrary, during the Journées du patrimoine in France, you might wait during six hours for visiting the headquarter of France Télévisions (even more if you want to visit the Palais de l'Élysée…).
A group of thirty visitors was formed. The tour of the Maison de Radio-Canada was not really interesting. First, we were not allowed to take pictures at all; that is why you may think that my pictures come from a hidden camera (other pictures stem from Google Images). Second, I did not have TV at home, neither did I have radio (more details below); so when the guide and the other visitors, talked about TV shows, I did understand nothing at all.
The Maison de Radio-Canada of Montreal hosts the French-speaking public media: two radio stations (Radio Première Chaîne, Espace Musique), a webradio (Radio Canada International), and two TV channels (Radio-Canada TV channel, and Réseau De l'Information news channel). It also hosts the english-speaking team of CBC Montreal (for the local programs in English). The other services of CBC are in Toronto, ON.
The building was built during the 1960s and inaugurated in 1973. It combines a tower for offices and underground is for sets. Most guests come to Radio-Canada by the main entrance, but sometimes they cannot or do not want to do so. So they use an underground corridor which is connected to sets. For instance, the former minister of Education Michelle Courchesne used it in order to take part to a TV talk-show during the student protests over tuition hikes. So did a baby elephant which had to attend to an animal program.
I was really interested by the salle de nouvelles: in Radio Canada, the offices of the journalists and the sets for Téléjournal are in the same open space. That makes the audience understand that news bulletins are not made by the anchor only, but by a wide team of hundreds of journalists (there are up to 3,500 employees in Radio Canada). Unfortunately we could not go inside…
Unfortunately again, I was the only one visitor who was fond of journalism and who wanted to know more about the newsroom. All the other visitors had very different interests, and the tour was more useful for them. Indeed, we visited several sets for talk-shows, series, children programs… because most of Radio Canada's programs are produced by Radio Canada itself (there is almost no contracted-out production). And the questions of the visitors were the following: Are the audience ratings fake? (a lot of questions were dealing with this issue) – Does Zénon (the name of a pig in a children program) really live in its house? – Are actors of « 30 vies » (a sitcom) really friends or just colleagues? – There is a stove in the set, can we use it? – Is « Tout le monde en parle » live ? (they were astonished when they were told that most of TV games were prerecorded)
I only take care about a remark. We were in front of a radio set, while François Dompierre was recording a program inside for Espace Musique. The guide told us that radio would never disappear because this medium is one of the most powerful. For instance, during dramatically cold periods of winter (e.g. during January 1998), there was no electricity, no heating; people could not go out due to snow and ice storm, they could not go to work or to school (even to buy food!)… but they could listen to radio. Again, radio is not a state-of-the-art medium but its necessity and efficience are uncontestable.
When I came back home, I remembered that I had no radio at all! My French telephone has a FM receiver (i.e. a radio app)… but it has broken down and is not more usuable. I could go on the website… but if there was a power failure due to a snow storm, there would be no Internet and I could not listen to radio! I would have no contact at all with the rest of the world! And some friends (Vincent in Toronto) wrote that this 2012-2013 winter would be the coldest of the 80 past years…
[tweet https://twitter.com/VincentDesry/status/252899808078073857]
Thus I decided to buy a radio immediately. Besides, I also needed an alarm clock because I used to use my French telephone also  (which broke down) and my Canadian telephone has a very basic alarm (no snooze function, etc.)… and most radios are also alarm clocks.
There was no very interesting ad about second-hand radios on the Internet so I went to Canadian Tire. I found this alarm clock radio.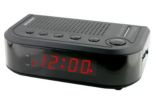 It was almost the cheapest model but it seemed to be handy. I bought it. And now I can hear radio. Although this radio can work when plugged, I will have to buy batteries (whenever there is a electricity failure).
Here is a list of radio stations in Montreal:
CBC Radio One:  104.7,  88.5 – the public English-speaking radio
Radio La Première:  95.1,  100.7 – the public French-speaking radio
CKUT:  90.3 – the student-run radio of McGill
CJPX : 99.5 – classical music
PW